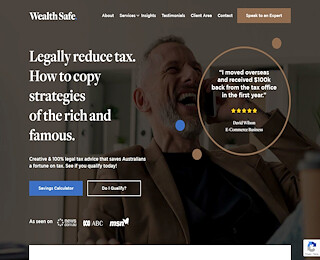 You've worked hard to grow your company and now you need to know how to maintain your wealth and ensure the future of your business. Unfortunately, paying high taxes is something that you might think you can't avoid. Whenever the government needs money it can raise taxes, usually most significantly impacting businesses and the wealthy. You need to learn some tax reduction strategies to protect your business from tax increases and shelter it from governmental interference.
Proven Tax Reduction Strategies
When you want to reduce your tax liability it is important to do so in a legal manner. You don't need to forge a new path or reinvent the wheel. There are many proven tax reduction strategies that large corporations have already been using to improve their wealth. These are techniques used by some of the biggest companies on the planet. These proven methods have been used to create extremely successful global corporations with a presence in all of the major countries of the world.
This type of financial success can be achieved only when you utilize tax reduction strategies that help you gain control over your finances and take your company to the next level. You can learn how your business can grow and compete in the global marketplace by reducing the amount of taxes that are burdening your business and dragging down profits.
Learn how to Achieve Financial Sovereignty
Your company can achieve financial sovereignty, just as many successful multi-million dollar companies have already done. You can accomplish this with help from a tax specialist. You can use some of the same methods that others have already employed to increase their global market while decreasing the deductions taken from profits. The result is the ability to operate completely as you like without the restrictions and heavy taxes of government.
You can certainly attain your company's goals and even greatly exceed them when you develop a strategy to reduce your taxes. It is important for you to become involved in learning how to accomplish tax reductions rather than relying on an accountant to handle your affairs. Only you can truly understand the options that are available and educate yourself on the methods that can be utilized to achieve success.
Guidance from a Mentor
Rather than simply passing off your tax issues to an employee or accountant, you can get the assistance you need from a mentor. You can be paired with another business professional who has already been successful in applying these types of strategies to reduce taxes. You will have access to someone with the knowledge and experience necessary for you to make the decisions you need to change the way you do business. By doing so, your company will immediately begin to reap the benefits of the changes and can start to soar to new heights that you never thought possible. You can open the doors to new opportunities while improving the company's profits and decreasing the expenses of taxes. To learn more about tax reduction strategies visit WealthSafe.com.au today.